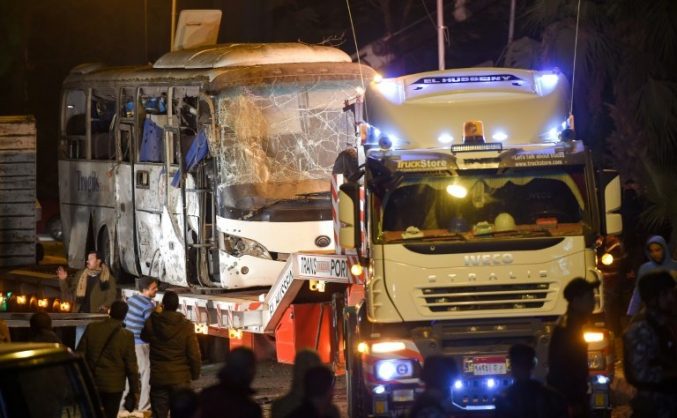 Three Vietnamese tourists and an Egyptian guide were killed and 11 others wounded when a bomb blast hit their bus on Friday less than four km from Egypt's world famous Giza pyramids, authorities said.
The bus, which was carrying 14 Vietnamese tourists, passed by a wall in which the bomb was hidden at around 6 p.m. local time, officials said.
This is a developing story.
Egypt's tourism industry has been struggling to recover from terror attacks and domestic instability that has hit the country in recent years.
Prime Minister Mostafa Madbouly was reported to be following the attack's updates along with the interior minister, Giza Governor and other security bodies.
There was no immediate claim of responsibility for the blast.
Egyptian tour guides hold a candlelight vigil at the base of the Great Pyramid of Giza in solidarity with victims of attacks in Paris and Beirut and the Russian plane crash in northern Sinai, on the outskirts of Cairo, Egypt, Nov. 15, 2015. The official statistics agency says tourists arrivals in Egypt in 2017 reached 8.2 million, up from 5.3 million the year before.
Egypt has battled Islamic militants for years in the Sinai Peninsula in an insurgency that has occasionally spilled over to the mainland, targeting minority Christians or tourists.
Security forces have since February been conducting a major operation focused on the Sinai Peninsula, aimed at wiping out a local Daesh branch.
Egypt's interior ministry said the two fatalities and most of the injured were Vietnamese nationals.
More news: Ferguson put together Solskjaer, Phelan Man Utd team
More news: Supreme Court Justice Ginsburg Undergoes Surgery to Remove Cancerous Growths in Lung
More news: Post-Christmas holiday, partial USA government shutdown to gain impact