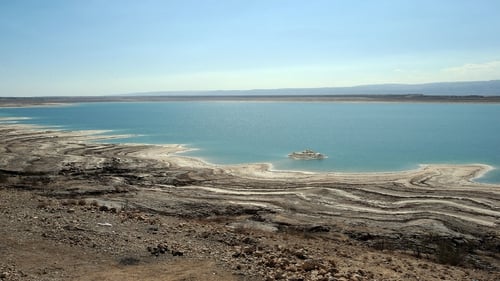 The bus had been carrying 37 pupils and seven members of staff to the Zara Maeen hot springs area when it was washed away, officials said.
Heavy rain has been sweeping the region for several days. Several people are still feared missing, he said.
Earlier, a civil defense official who asked not be named said the group was on a bus that was swept away by the flooding.
Thirty-four people were rescued in an major operation involving police helicopters and hundreds of army troops, police chief Brigadier General Farid Al Sharaa told state television.
A child survivor receives medical care at a hospital near the Dead Sea in Jordan.
Thirteen people escaped the flooding without injuries, with some holding on to rocks to survive.
Government newspaper Al-Rai carried the headline "Tragedy at the Dead Sea" on its front page, while the private Al-Ghad daily said it was a "Black Day".
More news: United States military will shut Mexico border to stop illegal immigration
More news: Still fuming, Harbaugh unloads on Dantonio, Michigan State
More news: Migrant convoy swells to 5000, heads to US
As night fell, huge spotlights were trained on the cliffs around the sea, finding 10 people awaiting rescue, alongside more bodies.
Jordan's King Abdullah cancelled a trip to Bahrain to follow the rescue operations, state media said.
Israel's military said it was helping with the operation, sending helicopters as well as search and rescue soldiers.
Rescue and recovery attempts were continuing as of Friday afternoon, as civil defence staff and the royal navy deployed divers and rescue dogs to scour the mud, debris and shorelines in the southern Dead Sea area.
The five-star hotels located at the northern tip of the Dead Sea close to Amman and at high vantage points, were unaffected by Thursday's floods and are expected to operate as normal.
The low-lying Dead Sea area, part of the Jordan Valley, is prone to flash flooding when rain water rushes down from adjacent hills.
Prime Minister Omar Razzaz said it appeared the school had broken regulations by going ahead with the trip, which had been banned in the Dead Sea area because of bad weather.