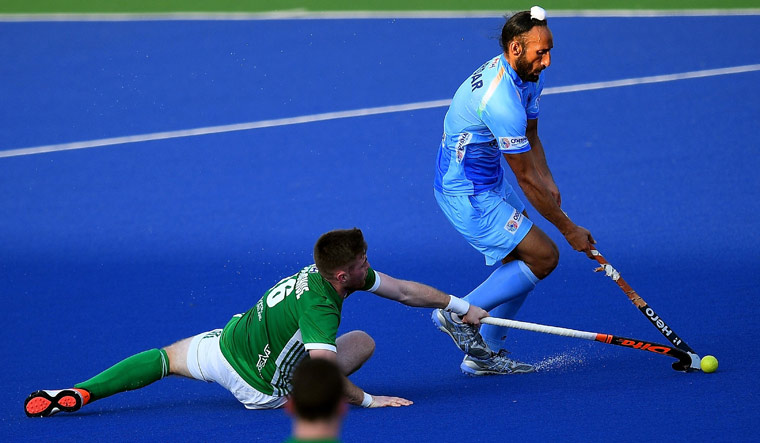 Australia took the lead in the 38th minute when Blake Govers fired home from a penalty corner.
But England were grateful to Ollie Willars for a solid block tackle to stop an Australia move towards the end of the first half as it remained goalless.
The world's top-ranked team finished the tournament, which included Commonwealth Games opponents England, Malaysia and India, with six wins from six games. It was brilliant play by Talwinder Singh who received a good pass from Simranjeet and later connected it to Gurjant who made no mistake in putting it into the post. For India, Ramandeep Singh (10') and Amit Rohidas (26') sounded the board while for Ireland, Shane O'Donoghue (24'), Sean Murray (36') and Lee Cole (42') were on the mark.
India denied Ireland their first PC of the match with a decision for video referral that was ruled in India's favour.
Juan Martín López (1st) and Gonzalo Peillat (11th) gave the 2016 Olympic champions 2-0 lead.
After rekindling their hopes of making the final with a convincing 5-1 win against Malaysia in their previous match, India looked for another win on the trot and got off to a start that reflected their intent.
More news: Liberum Capital Reaffirms "Hold" Rating for EI Group (LON:EIG)
More news: Right to die with dignity: SC allows passive euthanasia with guidelines
More news: Bears place transition tag on CB Fuller
A foot foul by defender Dipsan Tirkey saw India concede a penalty corner only 15 seconds prior to the half-time hooter but Suraj Karkera was on top of his job to keep India's lead.
India's next goal came off Gurjant in the 37th minute.
Australia won the circles entries count 16-10 along with the shots count seven to four, but the decisive factor was the Kookas' conversion from penalty corners taking two from three.
With time ticking away, India pulled out their goalkeeper to add an extra man to their attack.
India's tactics were spot on from the starting whistle and they earned back-to-back penalty corners in the fifth minute. But Varun's effort was deflected by Irish rushers. In the bronze medal play-off, Malaysia fell short of a superlative comeback victory as they came from two-goal down to lose 2-3.