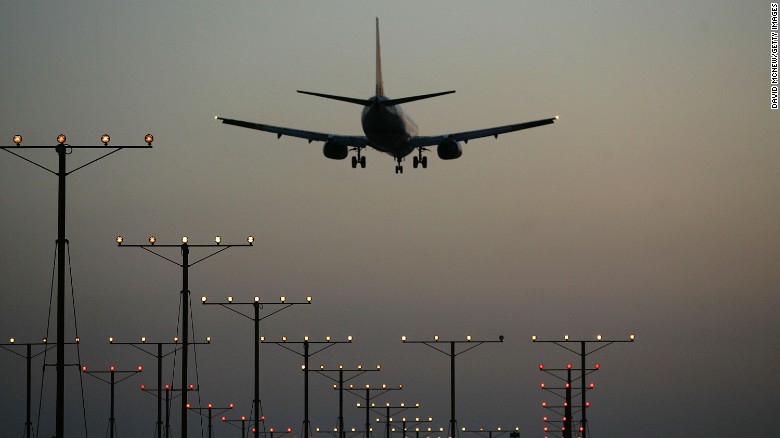 A flight from Sea-Tac to Beijing had to turn around when a passenger tried to open an exit door mid-flight!We're live at the airport at 11pm on KIRO 7 News with witness accounts of passengers helping to tackle the man.
A man on a Delta flight from Seattle to Beijing became unruly and punched the flight attendants.
According to the special agent's report, Hudek came out again only two minutes later when he suddenly lunged for the exit door and grabbing at the handle in an attempt to open it.
During the struggle, one flight attendant grabbed a wine bottle and hit Hudek over the head with it.
According to one flight attendant, 'Hudek did not seem impacted by the breaking of a full liter red wine bottle over his head, and instead shouted, 'Do you know who I am?' or something to that extent, ' the complaint said.
Hudek's mother Linda Hudek, is a customer service representative and reservation agent at Delta, according to her Facebook profile. Another passenger became involved, at which time Hudek grabbed a bottle of red dessert wine and hit the other passenger in the face. However, it could have conceivably been thrown open while the plane was descending, but luckily it did not.
If convicted, he faces up to 20 years in prison and a penalty of $250,000 for his actions on Thursday.
More news: National Basketball Association insane ? Clippers good excuse for Vegas trip
More news: Construction crane causes concerns for Oakland fire crews
More news: Qatar to seek compensation for Arab blockade
Hudek was able to push the emergency release lever on the door about halfway, and several passengers said they feared for their lives, according to the statement.
The plane was forced to Seattle-Tacoma International Airport as a result.
During the return to Seattle, Hudek "remained extremely combative, and multiple passengers were needed to restrain Hudek and keep him restrained until the plane landed safely", according to the complaint.
The crew and passengers deplaned, but the airline told IBT that "the flight re-departed for Beijing later Thursday evening".
Delta described the event as a "security incident with a passenger". The passenger was restrained onboard and was removed from the flight by law enforcement without further incident when the aircraft arrived back in Seattle. But "there is no information to suggest this is a national security threat", said Federal Bureau of Investigation specialist Ayn Dietrich-Williams.
The two people also initially said the Boeing 767 returned to the airport under a Department of Defense escort.
The FBI Seattle field office maintains a regular presence at the airport and assisted in interviewing passengers from the flight, Dietrich-Williams said.