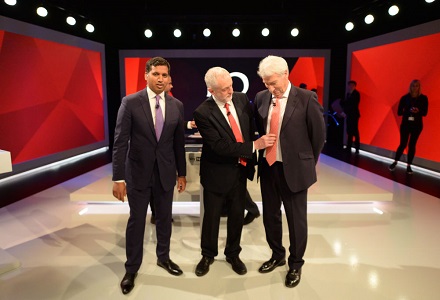 But it was not all good news for the Labour leader.
On the IRA, the Labour leader was challenged by an audience member who claimed he had "openly supported the IRA in the past" by attending a commemoration for eight IRA members killed by the SAS in Loughgall.
The Labour leader said he did not believe it had been a "plot" but added: "Margaret Thatcher made a great deal of that issue at the time".
He would not be drawn on whether he would order a drone strike strike against a terrorist plotting overseas to attack the UK.
But Brexit Secretary David Davis said Mrs May "brought it back to the fundamentals" over Britain's European Union exit, while Home Secretary Amber Rudd said Mr Corbyn's answers were "really worrying for security".
"It is a hypothetical question", he said.
May had refused a direct debate with her opposite number in Labour.
The not-a-debate between Jeremy Corbyn and Theresa May is the political story making the headlines in Tuesday's papers, with the i calling the clash between the party leaders and Jeremy Paxman "bruising".
Corbyn insisted that all of Labour's manifesto policies had been fully costed and will be funded mainly through raising taxes for the top 5% earners and corporations.
May was asked by a man in the audience about proposed changes to the way the social care is funded, which he described as "dementia tax".
Questions for the Prime Minister are likely to focus on the party's manifesto mess over social care, her hardline stance on Brexit and whether cuts to frontline services have made the United Kingdom less safe. "All of these acts have been deliberately timed to affect the result of the general election which will take place on 8th June", she said in earlier this month.
More news: Solar Probe Plus: NASA to launch mission into Sun's atmosphere next year
More news: KKR oust defending champions Sunrisers Hyderbad
More news: Check @ gseb.org: Gujarat Board GSEB HSC Class 12 Result 2017 Declared
"If in order to address them and do the right thing by the country it takes being a hard woman, that's exactly what I'll be".
Jeremy Paxman had one embarrassing quotation from him in 1982 saying the war was a "Tory plot", but Corbyn, picking up speed again, swerved back off the grass verge and onto the safe line of saying he wanted negotiations. "Who do you trust to stand up for Britain, to negotiate for Brexit and get the best possible deal for Britain in Europe?" she told a campaign event in South West London.
But observers felt Paxman's confrontational style was too much, and meant he failed to quiz Corbyn properly.
"It's a question of getting the right deal for us", she said.
Under his government, immigration would "probably" be lower than the current net 248,000.
"I would see my responsibility as our prime minister to contribute to a world of peace in the future", he said.
Lib Dem Tim Farron said both leaders had committed a series of "blunders".
"Jeremy Corbyn is saying we can promise you this, we can promise you this, we can promise you this and she is saying no, there's going to be another two million people over 75 in the next 10 years".
Ms Barnett said: "I presume you have the figures?"
There are several possible reasons for this: Labour's popular manifesto policies and Theresa May's controversial social care plans and subsequent U-turn nearly certainly contributed strongly to a shift in public perceptions.