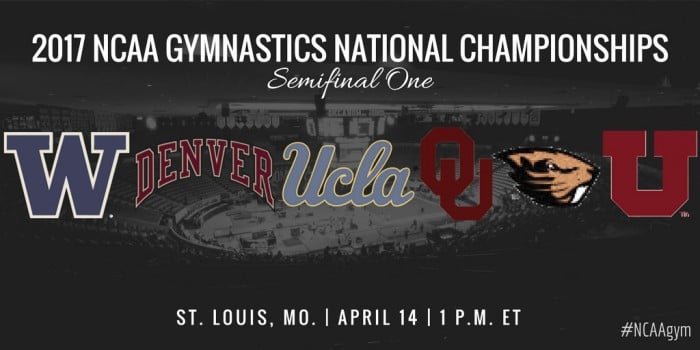 Oklahoma State's equestrian team lost 14-1 to Texas A&M in the quarterfinals of the NCEA Championship in Waco, Texas, ending the Cowgirls' season.
In the Cougars' eighth-straight regional appearance and 26th time in 28 years, they finished in fifth place with a score of 195.025, ahead of Mountain Rim Gymnastics Conference foe Utah State. They also competed against other top-25 teams such as Utah, Boise State, Iowa and Utah State. Although the Utes slipped to fifth after the second rotation, they were still in the chase, trailing third-place Denver and Washington by just half a tenth.
Maddy Stover "set the tone", said Farden as Utah's leadoff on beam-tying her season high with a 9.85. However, she clearly wasn't at her best and scored just 9.6625.
For the seniors, this could be their third national title - they received their first ring in 2014 when the Sooners posted a 198.175.
"We'll take those accolades when we get them, but that's not what we're about". A three-time Gymnast of the Week, Hortman also received Beam and Vault Specialist of the Week awards. "But you just have to push it aside and say 'I'm just gonna do this for my team and for myself, '" and it was a crucial spot trying to bring the team back from that". Douglas collected Vault and Floor Co-Specialist of the Week honors.
More news: Trump says he likes Bannon, but…
More news: Thunder star Russell Westbrook resting against Timberwolves
More news: Trump accuses Obama administration official of 'crime'
Kocian stepped up for her routine and was saluting the judges when she saw senior Hallie Mossett's score: a 9.2 after the senior fell on one of her flight series.
Also putting up impressive scores of 9.9 or over on different events include Stefani Catour on bars, Katelyn Ohashi, MyKayla Skinner, Madeline Gardiner, MaKenna Merrell, Silvia Colussi-Pelaez, and Stefani Catour on beam, and Madison Kocian, Maggie Nichols, AJ Jackson, Angi Cipra, Hallie Mossett, Baely Rowe, Kaytianna McMillan and MaKenna Merrell on floor. She also earned a career-high 39.275 in the all-around competition against Utah State on February 3.
Oklahoma slogged through uncharacteristic slow start Friday, scoring a 49.350 on floor exercise when All-American Chayse Capps went out of bounds and took a 9.7125, even though the score was eliminated as the Sooners' lowest.
"Coming in strong and starting off (on bars) really built the momentum for me", Ross said. "We have trained with a chip on our shoulder all year". "But she goes out and goes "I can do it, I got it" and it's just fun".
Every routine performed at regionals will return for the 2018 campaign as the Cougars look to reach the NCAA Championship next year.